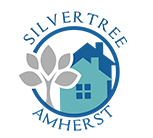 Silvertree Seniors of Amherst
467 John James Audubon Pkwy., Amherst, NY 14228
150 Senior Apartment Homes with Section 8 rental assistance
716-815-4660 TTY 711
Silvertree Seniors of Amherst is an independent living retirement community for seniors over the age of 62, located in Amherst, NY. At our community, we strive to deliver all of our tenants with a community that is affordable, secure, and welcoming. With rent based on income, our program encourages our residents to live on their financial terms. The affordable rent includes Wi-Fi, satellite T.V., and heat. There three apartment buildings on our property – that each house fifty units. Beautiful foliage and landscaped grounds surround the area – ensuring a peaceful ambiance.
All 150 apartments offer the same floor plan and amenities. At 520 square feet, our one bedroom apartments are the perfect size for you to retire and age with ease. In your free time, you will want visit your community room to enjoy activities and events with your fellow neighbors. And, when the weather permits – you can step onto our patio for a nice cup of coffee with a friend. Enjoyment is just around the corner when you rent with us.
Silvertree Seniors of Amherst offers each resident with excellent accommodations, an experienced on site staff, and maintenance that is available 24 hours a day – making it a great choice to be your next home.