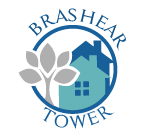 17841 North Laurel Park Dr., Livonia, MI 48152
196 Senior Apartment Homes with Section 8 rental assistance
734-591-6622 TTY 711
Brashear Tower is a unique asset to the community of Livonia, Michigan. Livonia, is a large suburb in northwestern portion of the Detroit Metro area with an array of traditional neighborhoods, most of which were built in the 1950s and 60s. By that standard, Brashear Tower is a modern gem amidst its surrounding residential communities and the only one designated with a Section-8 Contract for Seniors over the age of 62. The property has an Elderly designation with HUD and we pride ourselves on our ability to provide seniors with an affordable, safe, and comfortable living environment in the Detroit area.
Brashear Tower is a non-smoking building offering beautiful views and features that appeal to Senior residents. Building features include elevator access to all floors, common amenities, and a mix of recreational areas. Common areas include a main lobby/lounge, community room with adjacent dining room and kitchen, a billiards room, an exercise room, library, and activity room. Stepping off the elevator, doors open to a common lounge on each floor; the third through ninth floors feature a shared balcony patio area. Common laundry facilities are available on all floors for the residents' convenience. We offer off-street parking and controlled building access for the comfort and safety of our residents.
We have two floor plans at Brashear. Your choice of either a comfortable one-bedroom apartment, or a spacious two-bedroom home. The units offer ample storage for the convenience of our residents.
Brashear Tower provides all of its residents: excellent accommodations, a professional on-site staff, 24-hour emergency maintenance response and a warm community to call home.