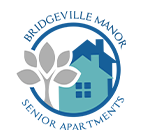 601 McMillan St, Bridgeville, PA 15017
50 Senior Apartment Homes with Section 8 rental assistance
412-257-4844 TTY 711
Bridgeville Manor is a high-rise residential facility for the elderly and persons who are 62 years of age or older with their rent based on income. It was designed to provide a friendly "homey" atmosphere while meeting the special needs of its residents. The four-story building has 50 air-conditioned apartments on floors two through four. A community room and a laundry room located on the first floor. Each apartment consists of a bedroom, bathroom, living room, and a kitchen equipped with a frost-free refrigerator and electric range. Bedrooms and living rooms have wall-to-wall carpeting and white sheers or blinds for the window coverings. All bathrooms have walk-in showers and both the bedroom and bathroom are equipped with emergency pull-cords, which are monitored by Guardian Protection Services.
Utilities included in rent: Electric, Gas, Water & Sewage.
Common Amenities include: Two Large Lobby areas, Dining Room Area, Community room with Kitchen, Laundry room all located on the first floor. Covered Patio area off the community room.