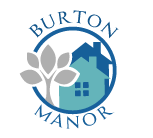 601 Cornell St., Aberdeen, MD 21001
80 Senior Apartment Homes with Section 8 rental assistance
410-272-7250 TTY 711
Burton Manor Apartments is an 80-unit midrise apartment community in Aberdeen, MD – just outside of Baltimore. The property rests nestled behind a neighborhood of quiet roads and Victorian Style homes. The property has an Elderly designation with HUD and we pride ourselves on our ability to provide seniors with an affordable, safe, and comfortable living environment in the Baltimore area.
We have a uniform floor plan at Burton Manor, consisting of spacious one-bedroom homes. Residents will enjoy socializing with one another in the community room and adjacent lobby, or – if eager for a quiet setting – relaxing at gazebo along our wooded lot. We have a controlled access system, as well as private and secure off-street parking, a sophisticated video camera system and many other services and amenities.
Burton Manor Apartments offers all its residents excellent accommodations, a professional on site staff, 24-hour emergency maintenance response and a great place to call home.