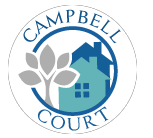 16650 Van Aken Blvd, Shaker Heights, OH 44120
82 Senior Apartment Homes with Section 8 rental assistance
216-921-8448 TTY 711
Campbell Court Apartments is an 82-unit midrise apartment community in Shaker Heights, OH – just outside Cleveland. The property sits on the edge of a historic Shaker Heights neighborhood, adjacent to the local grocery store and coffee shop, and caters to elderly residents, allowing them to maintain a great deal of autonomy. We pride ourselves on our ability to provide seniors with an affordable, safe, and comfortable living environment in the Cleveland area.
We have 2 floor plans at Campbell Court – either comfortable studio-type apartments or spacious one-bedroom homes. When not at home, you'll want to head over to our community room and mix with other residents or enjoy the quiet patio and gazebo out back. Our service coordinator is also on-hand to plan events and outings for residents to participate in and enjoy. We have a controlled access system, as well as private and secure off street parking, a sophisticated video camera system and many other services and amenities.
Campbell Court Apartments offers all its residents excellent accommodations, a professional on site staff, 24 hour maintenance response and a great place to call home.