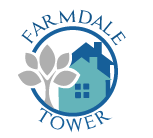 6440 Outer Loop, Louisville, KY 40228
105 Senior Apartment Homes with Section 8 rental assistance
502-964-8422 TTY 711
Farmdale Tower is a 105-unit Section 8 subsidized apartment community, located South East of Downtown Louisville, KY, just inside the 265 Interstate Loop. The building was original constructed in 1981 for residency by low-income Senior Citizens. Farmdale continues to serve that purpose today, having been granted an Elderly Designation by HUD under a long-term Housing Assistance Payment Contract. The physical features, as well as the grounds, have been lovingly and meticulously maintained throughout the life of the building.
Farmdale is the premier Section-8 community in Louisville. Its interior amenities include an administrative office on the first floor along with a large community/recreation room. Additionally, the common area has a game room with a billiards table and an adjacent exercise room for the resident's well-being. A Laundry Room is located on the second floor for the resident's convenience. The community features one floorplan: a sizeable one bedroom apartment home, with utilities included in rent.
The hallways have handrails and are serviced by two elevators for ease of mobility between floors. We offer a bus service once a week to transport residents to various locations on a weekly basis, and there is also a beauty salon on the first floor for the residents' enjoyment. Farmdale Tower provides all of its residents: excellent accommodations, a professional on-site staff, 24-hour emergency maintenance response and a warm community to call home.