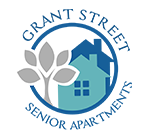 Grant Street Senior Apartments
430 Grant Street, Bridgeport, CT 06610
92 Senior Apartment Homes with Section 8 rental assistance
203-384-9984 TTY 711
Grant Street Senior Apartments is an independent living retirement community for seniors located in Bridgeport, CT. Our goal is to provide all our residents with affordable, safe and comfortable independent living for seniors over 62 years old with their rent based on income. Grant Street sits on the edge of a pleasant Fairfield neighborhood, just a few blocks from Bridgeport Hospital.
For the best in independent living, all of our apartments feature newly renovated kitchens, cable ready rooms, and well-maintained grounds. We have a full time service coordinator who plans regular events such as holiday meals to bring the whole community together. When you're not at home, you'll want to head down to the coffee bar or community room to mix with the other residents. Enjoy maintenance free living in a convenient location, and at an affordable price.
Grant Street offers excellent accommodations, a professional on site staff available 24 hours a day, 24 hour maintenance response and a great place to call home. Your new home is waiting; stop in for a tour today!