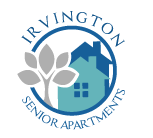 Irvington Senior Apartments
1 Linden Ave., Irvington, NJ 07111
135 Senior Apartment Homes with Section 8 rental assistance
973-374-1702 TTY 711
Irvington Seniors Apartments is an independent senior living retirement community for seniors in Irvington, NJ. We pride ourselves in providing our residents with an affordable, safe and comfortable community for seniors over 62 years old with their rent based on income. Irvington Seniors is a 12 story single building – newly renovated and in excellent condition.
Our apartments feature large, single bedroom units, for the best in independent living, with spacious living rooms and plenty of storage space. Over the last few years, a number of improvements have been made to the property, including 2 new elevators, new roof, new exterior stucco and paint, renovation of lobby area and community rooms, security upgrades and numerous other items. The property is just 15 miles from Manhattan, and twice weekly the resident service coordinator organizes trips into town for residence to get things they need, or just to get out and go on a shopping excursion. Enjoy maintenance free living in a convenient location, and at an affordable price.
Irvington Seniors offers excellent accommodations, a professional on site staff available 24 hours a day, 24 hour maintenance response and a great place to call home. Your new home is waiting; stop in for a tour today!