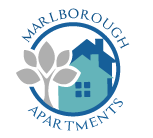 1701 Eutaw Place, Baltimore, MD 21217
227 Senior Apartment Homes with Section 8 rental assistance
410-669-3005 TTY 711
Marlborough Apartments is one of the finest Low Income, federally subsidized, apartment communities in Baltimore. We are located in the Madison Park Area, just west of Midtown; surrounded by plenty of shopping, dining, and recreational options. Our high-rise building offers great views of the surround city and its numerous parks. Just a mile to the north is Druid Lake, the Maryland Zoo, and the Druid Hills Golf Course.
Our apartment community offers many amenities and services geared towards making daily life much more enjoyable. More importantly, we have a friendly and helpful staff whose main concern is the welfare of our residents. By combining an up to date building with a staff that really cares about their residents, Marlborough is indeed a special place to live.
Marlborough offers excellent accommodations, a professional on site staff available 24 hours a day, 24 hour maintenance response and a great place to call home. Your new home is waiting; stop in for a tour today!