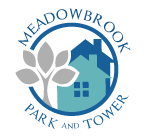 191 W 2nd Street, San Bernardino, CA 92408
267 Family Apartment Homes with Section 8 rental assistance
909-889-6319 TTY 711
Meadowbrook Park and Tower is a multifamily community located in San Bernardino, CA. We pride ourselves in our ability to provide all our residents with an affordable, safe and comfortable living environment with rent based on income. Meadowbrook is located just a few blocks away from City Hall and the activity of San Bernardino's downtown. Across the street is Meadowbrook Public Park, and with Central City Mall less than a mile away, there's plenty to do just around the corner. We have a safe, and well-maintained property with many tenants who have come to make this their family's home.
We offer our residents either garden or tower style living, with four floor plans to choose from: pleasant studios, and spacious one, two, or three bedroom apartments – for the best in independent living. Relax in the community rose garden while you watch your children gather at the playground. Or spend an evening with other residents in around one of the many outdoor grill and picnic areas. Our residents enjoy full kitchens and baths, central heating and air, spacious closets, and panoramic views.
Meadowbrook Park and Tower provides excellent accommodations, a professional on site staff, 24 hour maintenance response, and a great place to call home.