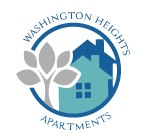 Washington Heights Apartments
115 Washington Ave, Bridgeport, CT 06604
120 Senior Apartment Homes with Section 8 rental assistance
203-367-8171 TTY 711
Washington Heights is an independent senior living retirement community, located in Bridgeport, CT, just along the city's Downtown and Central Business District. We pride ourselves in providing our residents with an affordable, safe and comfortable community for seniors over 62 years old with their rent based on income.
Representing the best in independent living, with modern interiors, and an excellent, attentive staff, Washington Heights is a great place to call home. Spend the day mixing with fellow residents in the common room, or out on the town, either at Seaside Park or Downtown Bridgeport, both just a stone's throw away. Accommodations are spacious and well maintained; our resident service coordinator hosts holiday parties and plans regularly scheduled activities.
Washington Heights offers excellent accommodations, a professional on site staff available 24 hours a day, 24 hour maintenance response and a great place to call home. Your new home is waiting; stop in for a tour today!