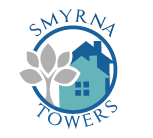 4000 South Cobb Drive, Smyrna, GA 30080
150 Senior Apartment Homes with Section 8 rental assistance
770-435-4010 TTY 711
Smyrna Tower is a 150-unit midrise apartment community in Smyrna, GA – right between Atlanta and Marietta. The property is nestled in a grove of oak trees, hidden from the sights and sounds of passing traffic. Smyrna is a premier property, which has been meticulously maintained since its construction in 1979. We pride ourselves on our ability to provide seniors with an affordable, safe, and comfortable living environment in the Atlanta area.
Our community features a simple mix of 1-bedroom apartment homes with utilities included. When not at home, you'll want to head over to our community room to spend time with other residents. Or, if it's a nice enough day, you may want to enjoy the quiet patio and gazebo out back, or participate in a resident shuffleboard tournament. Our service coordinator is also on-hand to plan events and outings for residents to participate in and enjoy. We have a controlled access system, as well as private and secure off street parking, a sophisticated video camera system and many other services and amenities.
Smyrna Towers Apartments offers all its residents excellent accommodations, a professional on site staff, 24 hour emergency maintenance response, and a great place to call home.